Commercial shipping of bulky goods with Cargoboard
Calculate prices in just four steps and book online
Shipping bulky goods with Cargoboard
As a business owner, you can use Cargoboard to ship bulky goods nationally and throughout Europe. You can learn everything you need to know about shipping on this page. To ensure that your goods arrive intact and safely, you should pay particular attention to the correct packaging of bulky goods.
From a total weight of 30 kg, bulky goods must be transported on a pallet or accessible from underneath. For more info on packaging and maximum dimensions of bulky goods, see the bottom part of this page.
We ship many packages to customers all over Europe and Switzerland every day. Cargoboard makes the process much easier. The processing is fast and uncomplicated. Professional help is provided for any questions and issues. We are looking forward to further cooperation.
Lara B.
Cantana Organic Textile Printing Service
What do I have to ship as bulky goods?
Shipments larger than 120 x 60 x 60 cm or heavier than 30 kg must be shipped as bulky goods.
With Cargoboard you can ship bulky goods with a maximum size of up to 240 x 120 x 220 cm and a maximum weight of up to 1,000 kg as groupage freight .
You can also send larger shipments with dimensions of up to 400 x 240 x 240 cm and a weight of more than 1,000 kg through us. In this case then however as Less Than Truck Load, Full Truck Load or Direct Load. For these shipments, the loading and unloading of the truck must be ensured by the customer.
The right packaging for your bulky goods shipments
When shipping bulky goods, you must pay attention to the respective unit weight of each package. From a unit weight of 30 kg, the bulky goods must either be accessible from underneath with a pallet jack or fixed on a pallet.
Packaging tips for a bulky goods shipment with a unit weight of less than 30 kg
If you are shipping bulky goods that weigh less than 30 kg, you do not necessarily have to ship them on a pallet and can use a cardboard box for packaging.
Make sure that the bulky goods in the box are well padded and the empty space is filled with filling materials such as styrofoam, foam or packaging chips. Furthermore, we recommend that you fully wrap the goods packed in the carton with bubble wrap.
If it is not possible to pack the goods in a cardboard box, make sure to wrap the package with bubble wrap and cardboard.
For additional protection, we recommend placing a pallet cap on the packaged goods.
Packaging tips for bulky goods shipments with a unit weight of less than 30 kg
Bulky goods weighing more than 30 kg must be placed on a pallet when shipping.
The next question is whether the bulky goods should be shipped on the pallet with or without a box.
When choosing the box, we recommend the tips in the previous section.
If you want to ship your bulky goods on a pallet without cardboard, all corners and edges should be protected with bubble wrap and solid cardboard.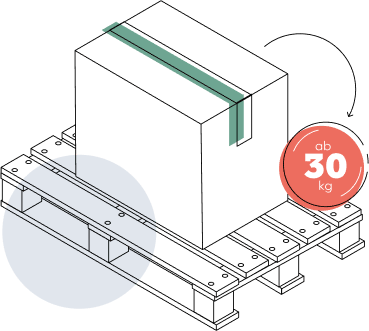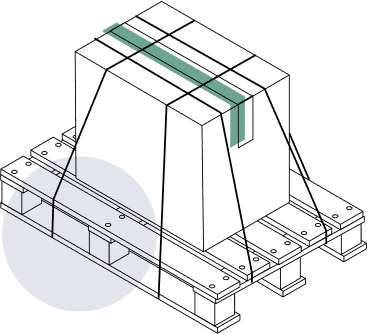 The fixation of bulky goods on a pallet
To fix the bulky goods, place them in the center of the pallet and fix the packaged bulky goods with strapping belts or tension belts.
When shipping fragile goods, label your shipment with an appropriate notice or a pallet cap. It will prevent your shipment from being stacked during transport.
The collection and delivery of the bulky goods shipment
The collection and delivery for bulky goods shipments is "free curbside". This means that collection and delivery will be made to the curb of the specified addresses at no additional cost.
If the consignees of the deliveries are not private individuals but companies, the drivers usually adapt to the logistical circumstances. If there is a loading ramp on site, for example, it is usually used.
Transit times for bulky goods shipments with Cargoboard
If you ship your bulky goods with Cargoboard as groupage freight you have the possibility to choose between three different delivery options. These differ mainly in features such as transit time.

Cheapest shipping method
National transit time in Germany usually 1 – 2 business days
24/7 Tracking

Prioritized loading and delivery
National transit time in Germany usually 1 business day
24/7 Tracking
Premium delivery for bulky goods shipments
With premium delivery, the fastest possible delivery date is selected by default. Alternatively, a later delivery date can be selected during the offer configuration.
Premium delivery for pan-European shipments
If you want a fixed delivery date for a pan-European shipment, it is the last day of the specified regular transit time for the premium delivery option.
Premium delivery for groupage freight
If you request a fixed delivery date, we will store your shipments for up to 3 business days free of charge. These are counted from the last business day of the earliest possible term. For each additional business day, we will charge 5€ per pallet space and business day.
Prices for bulky goods shipments with Cargoboard
The prices for bulky goods shipments are highly dependent on the factors shipping method, distance to be covered and weight of the bulky goods shipment. You will receive your individual and daily updated price after entering the loading and unloading points on our platform.
Starting at ten regular shipments of bulky goods per month, you have the opportunity to agree on custom conditions. Please feel free to contact our sales team.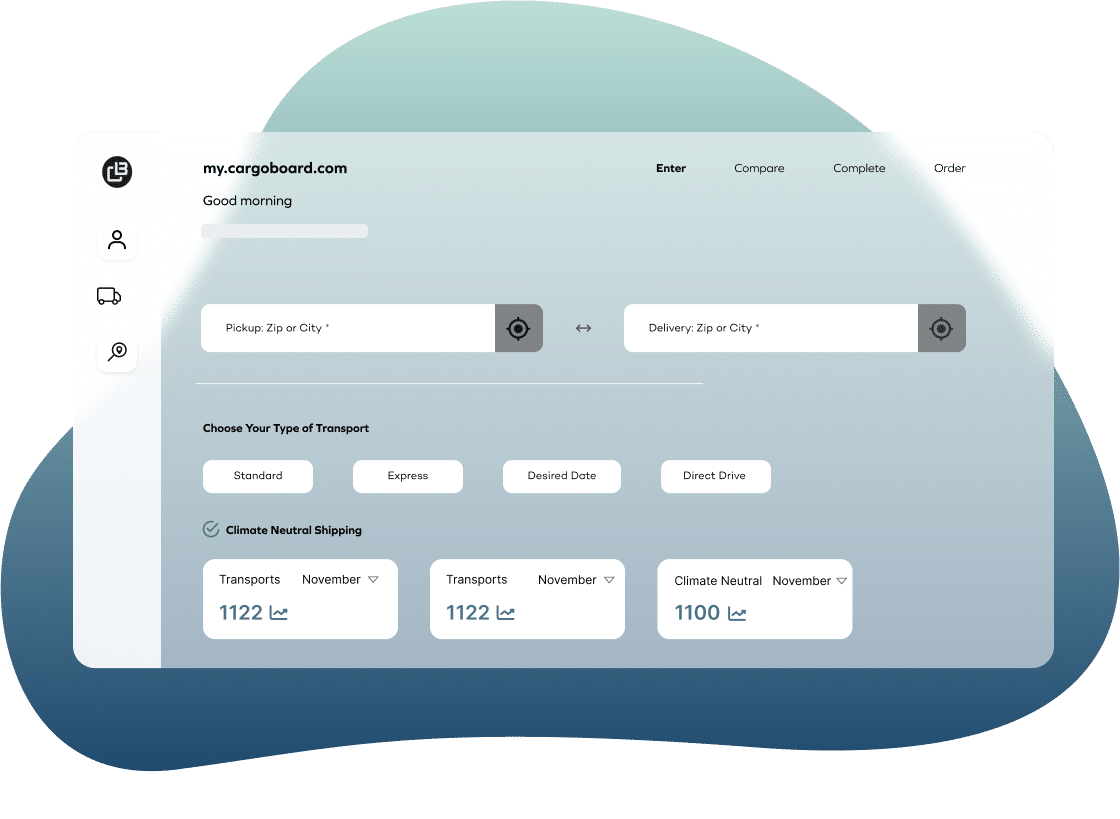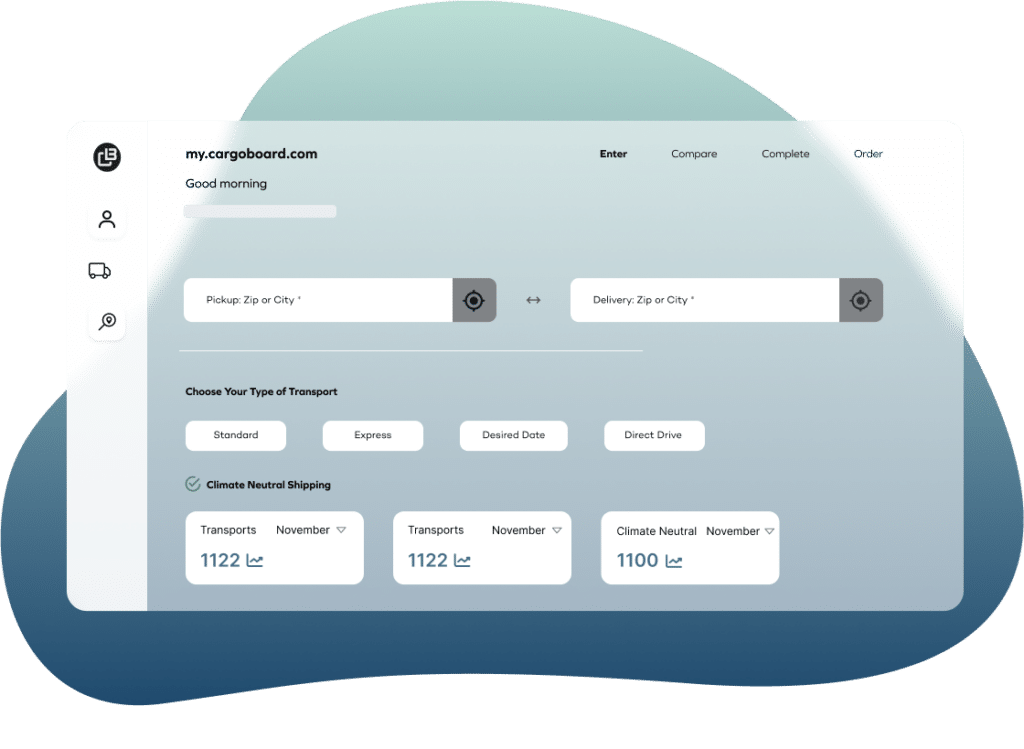 With Cargoboard you can handle the commercial bulky goods shipment in your area. Simply enter the loading and unloading point in our freight cost calculator and find out about our shipping methods, transit times and prices.
Insure bulky goods for transport
There is no standard insurance when shipping bulky goods. In case of damage or loss, only the liability according to the German Freight Forwarders' Standard Terms and Conditions (ADSP) applies.
Therefore, we recommend our shipping insurance for expensive shipments. You can easily and uncomplicatedly add it during the booking process.
Frequently asked questions
I cannot find what I am looking for. Who can I contact?
If you have any unanswered questions, you can reach us via Live Chat (bottom right), Mail, WhatsApp or by phone.