The pallet shipping for your orders!
Pallet shipping in Germany & all Europe book online in a few steps
Pallet shipping: Europe-wide, reliable and cheap
Whether within Germany, in the territory of the European Union or in third countries, such as Switzerland: with Cargoboard we offer you simple and fast pallet shipping. On our online forwarding platform, you as a trader can ship your goods cheaply on one-way or Euro pallets.
Cheap pallet shipping with Cargoboard
Whether the goods for your pallet shipment weigh 50 kg, 150 kg or 1000 kg, with our logistics platform Cargoboard you can send as a commercial shipper any type of pallets via our international general cargo network.
With the help of our price calculator for pallet shipping you can calculate freight costs in seconds and without registration. After specifying the exact sender and recipient address and choosing your means of payment, we will bring your cargo safely to its destination.
Shipping with the CargoLine logistics network

CargoLine is a medium-sized network with locations in every European country, the CIS states and overseas. As a subsidiary of CargoLine, Cargoboard draws on its logistics network for the services it offers, such as pallet shipping. Through the network, we can provide high agility and speed through daily departures in all directions. Thus, we are able to ship your pallets in general cargo within a few days not only across Germany, but also throughout Europe. For us and for CargoLine, the quality, transparency and reliability of our service are of primary importance.
You want to book a pallet shipment through us? Then use our platform, to get prices and book your freight order shortly. Below you can clearly see the process after your order booking.
This is how pallet shipping works with us as a forwarder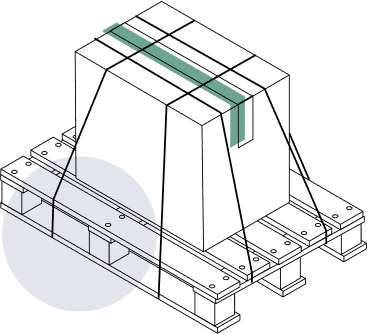 The right packaging for pallet shipping
After you have booked a pallet shipment with us, we will get to work. The goods must be packed appropriately for transport. Goods heavier than 30kg and which are not self-supporting must be placed on a pallet. Depending on the volume of the goods, you can decide whether to ship your goods with a Euro pallet, one-way pallet or half pallet.
For safe transport it is important that the goods do not protrude over the edge of the pallet. To protect the goods, we also recommend that you use sufficient padding. In the case of free objects, this would be bubble wrap and edge protectors, for example. Goods shipped in cartons should be stabilized inside the carton so that they cannot shift. For this very well suited packaging chips, styrofoam, foam, cardboard or simply newsprint.
The correct fixation for pallet shipping
For pallet shipping, the packaged goods are now fixed to the pallet with tensioning and lashing straps so that they cannot slip off. If you are shipping glass or fragile goods on the pallet where stacking is not allowed, you must mark this. For example, with a notice sticker or notice tape. For fragile goods that should not be tipped, we recommend attaching the parcel label to the top of the transported goods.
In addition, we would like to point out that your goods are not insured by default. This is sometimes misleadingly presented. Therefore, if you are shipping expensive goods, we recommend you to book insurance .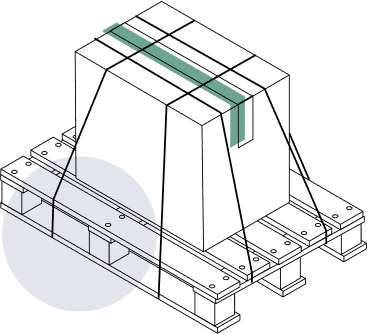 The collection of pallets "free curb".
For pallet shipment, our forwarding agents usually take over your goods from the curb. This means that we collect the goods that you have placed with you at the roadside. For this purpose, it is mandatory that goods weighing 30 kg or more can either be moved under by themselves or are placed on a pallet for shipping. So we can transport the goods on the pallet to the truck with the lift truck. Our trucks are always equipped with lift truck and tail lift.
Your goods will be picked up between 10 am and 4 pm. If you have individual requests for collection, it is best to address them to our service team.
The delivery of pallets "free curb".
Like the pickup, the delivery is made by pallet shipping "free curbside". The forwarding agent unloads the truck at the roadside delivery address and obtains the signature for acceptance. A:e recipient:in thereby confirms receipt of the shipment and that the goods are undamaged.
Delivery times for pallet shipping are between 8 am and 2 pm. Individual requests can be discussed. Address them to our customer service.
General information about pallet shipping
With Cargoboard you can ship your pallet in different dimensions. When booking, a distinction is made in particular between a Europool pallet (also known as a Euro pallet, flat pallet or DB pallet) and a one-way pallet.
Types of pallets
Euro-Pallet
One-way pallet
Short description

Standardized flat pallet (FP) made of wood, which comes from the exchange system Europool.
Vehicles and logistics infrastructure are designed for the Euro pallet
Reusable based on a deposit system (pallet is exchanged for pallet)
Very robust and proven in logistics and transportation

Intended for a single transport route only
Use mostly when shipping to private individuals
Remain with the recipient and are not exchanged
Available in different sizes
Usually cheaper than euro pallets

Dimensions

Standardized size

120 x 80 x 14.4 cm (length x width x height)

No standardized size

Common dimensions: 60 x 40 cm, 60 x 80 cm, 120 x 80 cm and 240 x 80 cm

Weight
20 – 24 kg
Varies between 5 and 25 kg depending on size
Number of nails
78 – 81 nails
Varies depending on the size and type of pallet
Transportation
Can be transported and driven under from all four sides with an industrial truck (forklift or pallet truck)
Are mostly used as loss packaging during transport and remain with the recipient
Maximum payload
1,000 kg (recommended), with optimum distribution 1,500 – 2,000 kg
Depending on pallet type and quality 500 – 1,500 kg
Choosing the right packing material for pallet shipping
With Cargoboard you are able to ship your goods with different packing materials. In addition to sending parcels, shipping on one-way or Euro pallets is common.
The right packaging explained in a few steps
First, the edges of the goods to be transported must be provided with edge protection. You can attach this with adhesive tape, for example. After the edges are protected, ideally wrap the goods in bubble wrap. Thus, you ensure that your goods will be spared from dust, dirt and scratches. Alternatively, the goods can be packed in a cardboard box.
Lastly, it is important that the goods are centered on your pallet for pallet shipping. Plastic tension belts, for example, are suitable for this purpose. Your goods should not protrude above the pallet. This greatly increases the risk of damage. If you do not have any other solution, it is mandatory to apply shock protection to the goods.
Transport-safe packaging is essential for smooth pallet shipping. For ecological and economical pallet shipping, the goods are reloaded several times and combined with other shipments. Learn more about the importance of transport packaging.
In 3 steps to the price output for your pallet shipment
Without registration and with a few details, you can get all freight prices online with us. You can choose whether to ship your goods on one-way or Euro pallets and get your individual freight costs directly in our calculator. If you have found the right offer, you can immediately book the pallet shipment at Cargoboard.
Frequently asked questions
I can't find what I'm looking for. Who can I contact?
If you have any unanswered questions, you can reach us by phone, via live chat (bottom right) and by mail.