Favorable transport variant for smaller shipment quantities!
Calculate and ship commercial part loads online!
Calculate part loads with Cargoboard and ship directly
Do you have a shipment that contains more than 6 pallet spaces or has a total weight greater than 3,000 kg, but is not large enough for a full load? These shipment quantities are treated by Cargoboard as a partial load, also called an additional load. This is referred to as Less Than Truck Load (LTL).
Via our platform my.cargoboard you can calculate and book your shipment in just a few clicks. We convince with our digital expertise, our Europe-wide logistics network and our experienced Dispo team.
We ship many packages every day to customers all over Europe and Switzerland. Cargoboard facilitates the process enormously. The processing is fast and uncomplicated. Professional help is provided for questions and problems. We are looking forward to further cooperation.
Lara B.
Brand & Communication Manager, Cantana Bio-Textil Druckservice
Book part load online and benefit from advantages when shipping with Cargoboard!
Immediate price information with subsequent online booking in just four steps!
Well-rehearsed disposition team
Experienced Dispo Team as central contract and contact person for your part load!
Area-wide and Europe-wide transport network with fixed & established routes!
Inexpensive transport variant
Optimal mode of transport for smaller shipment quantities that are not so urgent in terms of time!
Transparent shipment tracking
Track & Trace from pickup to transport handling to delivery!
Optional climate neutral shipping
If required, compensation for the greenhouse gases produced during transport!
Partial load at Cargoboard: definition and mode of operation
At Cargoboard, part loads are shipments that exceed the limits of general cargo shipments but are not large enough for a full load. In this scenario, it makes sense to combine several partial loads.
Accordingly, the cargo space of a complete 40 ton truck is distributed over several orders. This makes the best possible use of the vehicle's loading area. You share the cargo space with several shipments and for you as a customer the costs are reduced.
This is what the shipping process looks like for a partial load with Cargoboard:
You as a customer book a partial load via our platform.
Our disposition team sifts through the orders.
Several partial loads that are located on a logistically reasonable route are scheduled and transported together on one vehicle.
The individual partial loads are loaded, transported and unloaded again as a direct run in a logistically sensible sequence.
This is what you need to pay attention to: Loading and unloading methods for a partial load
When booking a partial load via our platform, you should pay attention to which loading and unloading method you would like to use for your partial load. No matter which option you choose: It is important that shipped goods must always be loaded by the sender and unloaded by the recipient!
When selecting ramp loading, you must ensure that an appropriate loading ramp is available at the loading and unloading point. Furthermore, it is important that an appropriate lift truck or forklift is also available for loading and unloading at the loading point.
If you select side loading, the truck will be loaded or unloaded from the side with a forklift. An appropriate forklift must be available for this purpose at the loading or unloading point.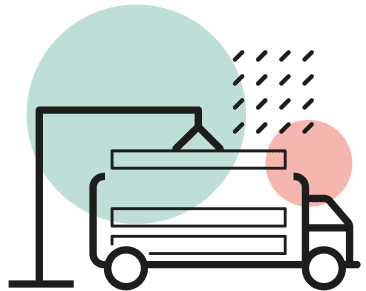 Crane loading is characterized by the fact that the goods to be loaded are loaded onto the truck with a crane at the loading or unloading point. This crane must be present at the loading points.
Found what you are looking for?
Ship commercial part loads quickly and inexpensively with Cargoboard!
Shipping options and delivery times when shipping partial loads
When shipping a partial load, you can choose between two different shipping options, which differ mainly in features such as delivery time. Delivery times for Europe-wide shipping of partial loads can be viewed on our platform after entering the loading and unloading point in the second step.
Collection within three working days
Fastest possible delivery
Cheapest shipping method
24/7 tracking
Collection on the selected working day
Prioritized loading and delivery
Fastest possible delivery
24/7 tracking
Prices when shipping partial loads
Partial loads are characterized mainly by their favorable price, because you share the cargo space with several shippers. This price, as with any mode of transportation, depends on the distance to be traveled and the shipping option selected. On our platform you can view your individual price after entering the loading and unloading points and then book.
Packing part loads correctly & Have optional insurance
Even with partial loads, you must ensure that the goods are adequately secured. Safeguarding measures protect your cargo. These include edge protection, anti-slip mats or bubble wrap. To protect yourself against possible damage, choose our transport insurance. During the ordering process, you have the option to purchase insurance for your partial load in the third step. This may be worthwhile for you especially if you have a more valuable cargo.
Europe-wide shipment of part loads
With Cargoboard, in addition to national shipping within Germany, you can also ship throughout Europe. With our Europe-wide network we are able to implement your part load within a few working days. You can also implement pan-European connections with Cargoboard.
With Cargoboard you can ship to all European countries. Feel free to check out our connections and benefit from our Europe-wide network and expertise in this field. The most popular pan-European connections include the following countries:
Frequently asked questions
What do I need to consider when selecting the loading and unloading method?
For the loading and unloading modes, you must ensure that there is an appropriate vehicle for the load at the loading and unloading point. We have prepared this information for you in the upper section of this page.
How does a partial load differ from a full load?
With a partial load you do not book a complete 40 ton truck, but share the loading area with several shipments. For this purpose, they are loaded, transported and unloaded again in a logistically sensible sequence.