Climate-neutral shipping with Cargoboard
Our cooperation with the climate protection organization myclimate
Climate neutral shipping and greenhouse gas compensation
According to WEF studies , the logistics and transport sectors currently cause more than 5.5% of all CO2emissions worldwide, and the trend is rising.
To counteract this development, climate-neutral shipping is becoming increasingly important – and not only for our customers.
Through our cooperation with the climate protection organization myclimate Germany, Cargoboard gives you the opportunity to offset your greenhouse gas emissions. Many of our customers already use this option and thus ship climate neutrally.
The cooperation with myclimate Germany
The non-profit foundation myclimate is an internationally active organization that was founded in 2006. The goal of myclimate is to promote climate protection through its own projects as well as through consulting and educational services. In order to finance the projects addressed, myclimate has developed a CO2 emissions calculator that can be used to calculate the amount of offsetting. The projects supported by the offset amount from climate-neutral shipping fall into the areas of waste management, energy efficiency, solar, water optimization, hydropower and wind energy.
Set an example: Vote climate neutral!
Now climate neutral shipping with Cargoboard! Upon request, you will receive a climate certificate from us.
Significance and function of climate-neutral shipping
With climate-neutral shipping, the greenhouse gas emissions generated are offset by supporting climate projects and the expansion of a sustainable energy supply.
How does climate-neutral shipping work?
After entering the shipment data, our transport cost calculator calculates the CO2 emissions generated during transport based on the distance to be covered, the expected diesel consumption, and the utilization of the means of transport.
Based on these factors, a compensation amount is determined that can be optionally added by our customers. The proceeds are then donated to the non-profit foundation myclimate, which uses them to support selected carbon offset projects worldwide.
What is the offset amount for climate-neutral shipping?
The amount of compensation for climate-neutral shipping is highly dependent on the listed factors of mileage, diesel consumption, utilization of the means of transport and weight of the shipment. For example, if you send a Euro pallet with a unit weight of 100 kg from Hamburg to Munich, the amount is just 0.30 €. Another example is the shipment of two Euro pallets with a unit weight of 200 kg each on the route Paris – Berlin. Here, too, the compensation amount is vanishingly small, at just €1.57.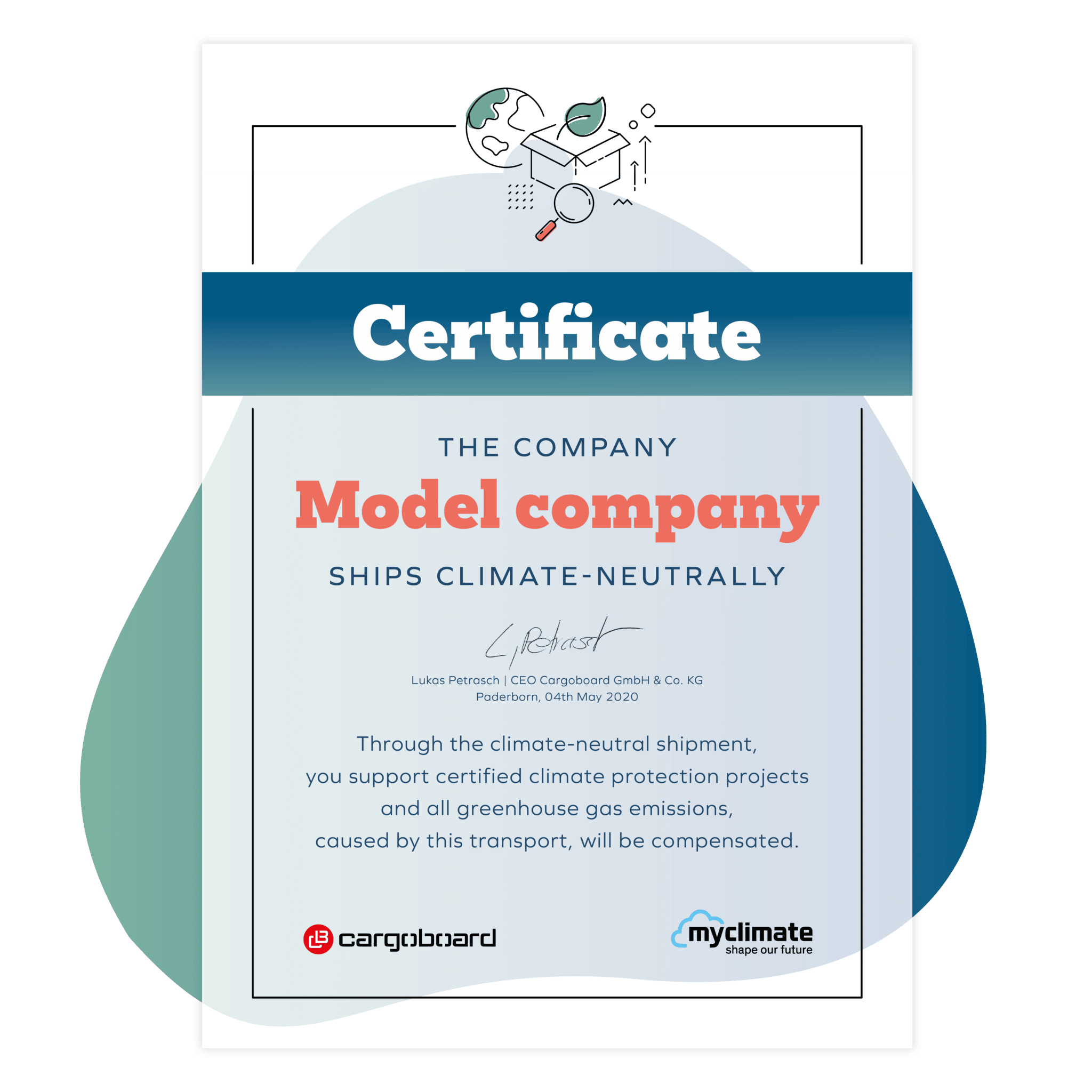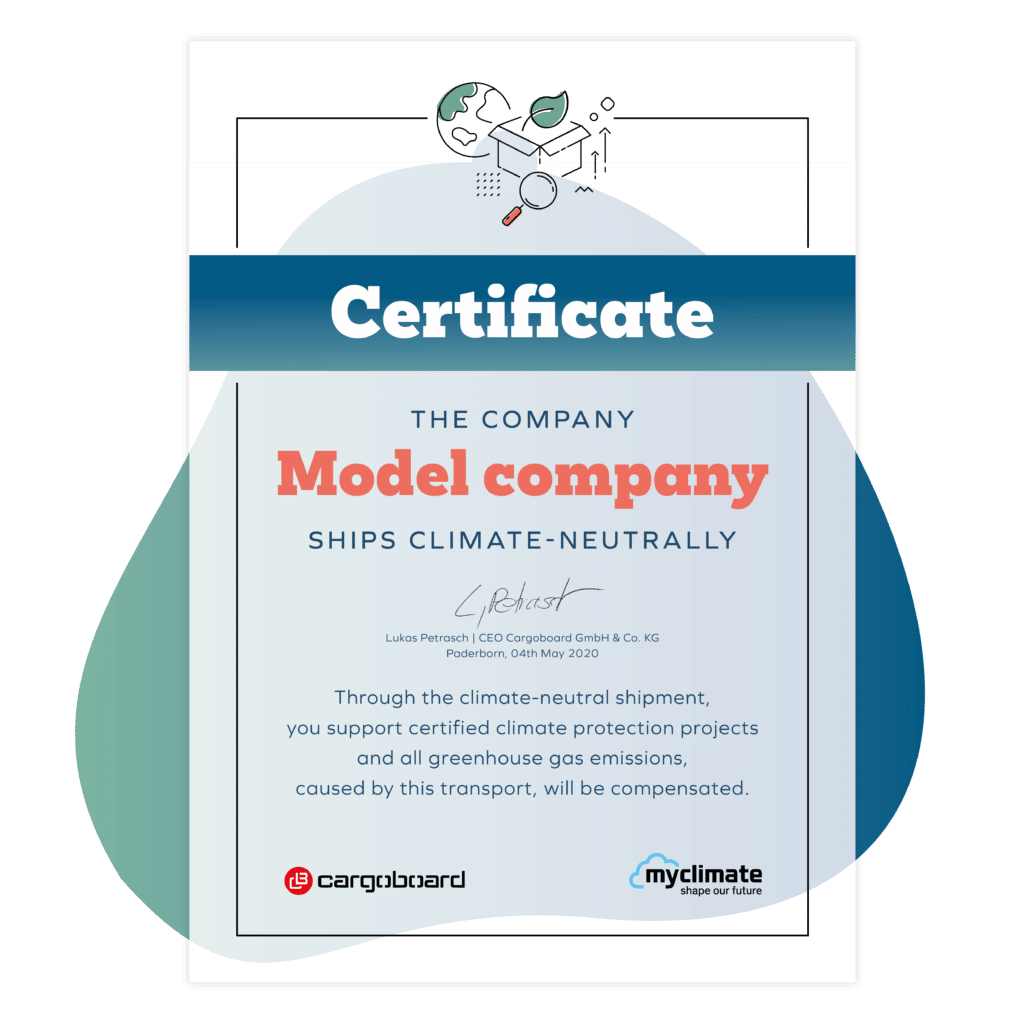 Your added value when booking climate-neutral shipping
When booking climate-neutral shipping, you support the projects of myclimate and thus contribute to environmental protection. In addition to this overriding added value, we can issue you with a certificate that records how much CO2 you have already offset with our climate-neutral shipping. Just email us at service@cargoboard.com.
The BADfabrik24 sends immediately climaticneutrally - a field report
The BADfabrik24 is one of our first Kund:innen, which already used the possibility for climaticneutral dispatch. With climate-neutral shipping, the company donates the calculated offset amount for each shipment to the climate protection organization myclimate and thus supports a wide variety of carbon offset projects. As a young and aspiring company, BADfabrik 24 thus represents a sustainable corporate philosophy and serves as a role model for other companies.


"As a young and up-and-coming company, we were able to identify Cargoboard as a reliable partner with a sustainable commitment to climate-neutral goods transport. There is no additional work for us and we can ship our products with a clear conscience. We will be happy to pay the offset amount to compensate for the greenhouse gas emissions generated and contribute to environmental protection. We look forward to the upcoming climate protection projects that can be realized with the contributions from Cargoboard.
Patrick Apel
Managing Director, BADfrabrik24
Now climate neutral shipping with Cargoboard!
Frequently asked questions
What do I need to consider when selecting the loading and unloading method?
For the loading and unloading modes, you must ensure that there is an appropriate vehicle for the load at the loading and unloading point. We have prepared this information for you in the upper section of this page.
How is a full truckload different from an express direct?
In the case of a full load, you book a complete 40 ton truck with its cargo space at your disposal. An express direct trip is characterized by the smaller vehicles, which accordingly reach the destination faster.